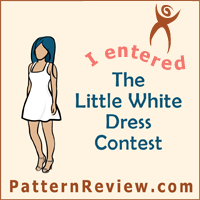 I just joined Pattern Review.com and decided to enter their first contest of the year. I can't win because I'm new to the group, but ya gotta start somewhere.
Theme- Little White Dress. All white dress, no colored trim, photos of dress with no accessories, day accessories and night accessories.
The pattern I'm going to use is McCall's 6699. I've used this pattern before and it was a great fit.
I found this beautiful embroidered cotton.
I'm going to make the skirt fuller, and line it. Keep the pockets.
Here are my inspirations.
I plan on doing something to the hem, kind of like in the pictures.
Can't wait to get started.
Come back soon and see how it looks.